Revamped ag robot unveiled at ARPA-E Innovation Summit
---
A robot developed to aid scientists in their efforts to increase bioenergy crop yields will be showcased at the Advanced Research Projects-Energy (ARPA-E) Energy Innovation Summit on July 8-10, 2019, in Denver, Colorado. 
"We must ensure that our energy supply is produced in America and abundant, dependable, renewable, and future-proof," said Stephen Long, Ikenberry Endowed University Chair of Crop Sciences at Illinois' Carl R. Woese Institute for Genomic Biology and director of the TERRA-MEPP (Mobile Energy-Crop Phenotyping Platform) project that is developing compact robots to help researchers and plant breeders identify heritable traits to increase crop bioenergy production.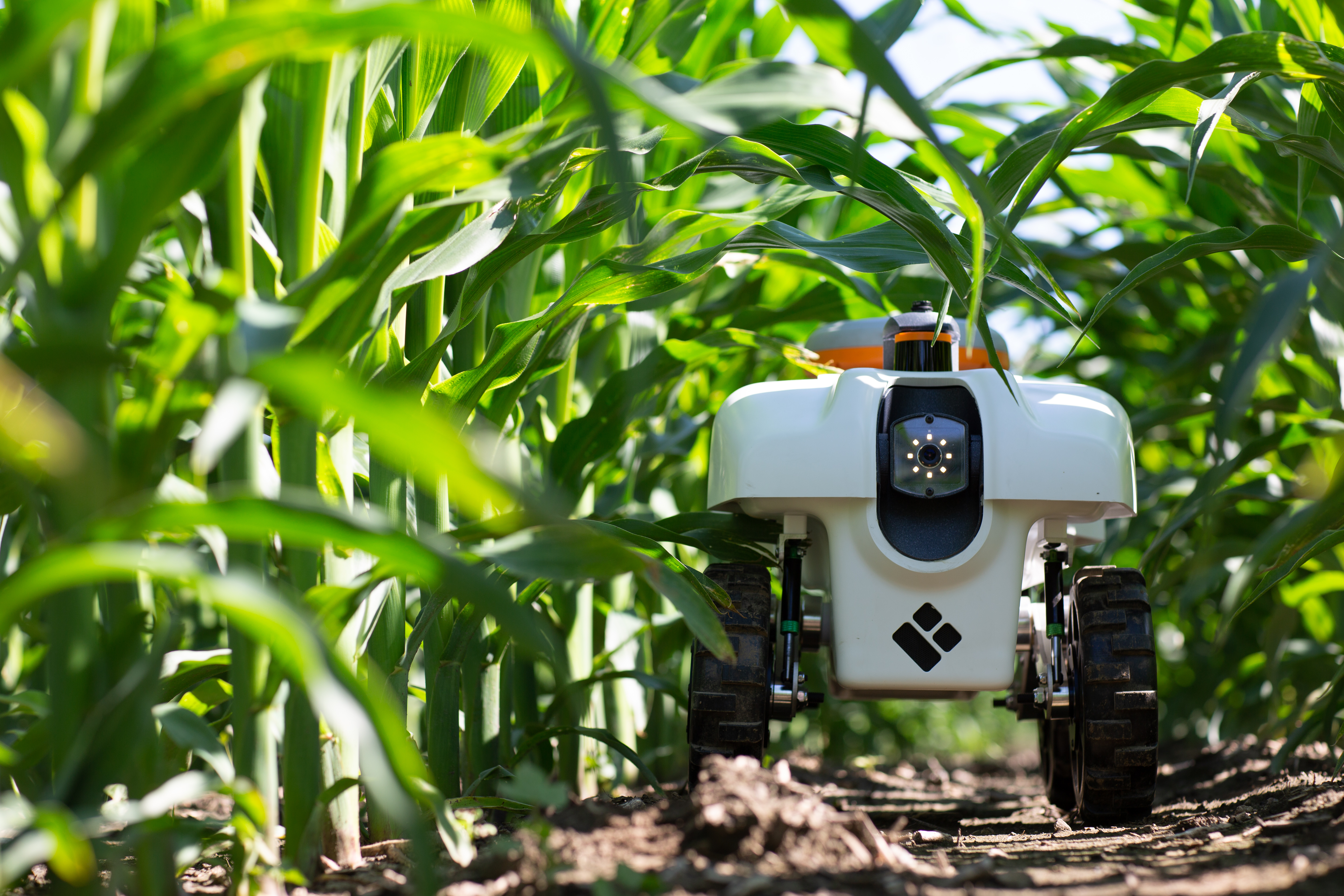 ARPA-E's Transportation Energy Resources from Renewable Agriculture (TERRA) program provided $3.1 million in funding for TERRA-MEPP. Today, a start-up company, EarthSense, Inc., is now commercializing the TERRA-MEPP-developed robot, called TerraSentia. These robots use machine learning to identify traits—such as stem height, width, and leaf area—that are linked to higher yields. 
TerraSentia was featured at the 2018 ARPA-E Summit Technology Showcase in National Harbor, Maryland. Since then, EarthSense with TERRA-MEPP has redesigned TerraSentia to enhance its durability and reliability, while also developing analytics for the robot to more accurately detect and quantify crop traits, such as stem width, height, and leaf area.
The 2019 model of TerraSentia weighs less than 30 pounds and can operate for 4 hours. Its compactness allows it to act as an 'agricultural Roomba' and work beneath the crop canopy to analyze the plant from top to bottom more efficiently. Using TerraSentia, scientists and crop breeders can measure multiple traits of every plant in the field in a shorter amount of time than if they were to do it manually.
Simultaneously, TERRA-MEPP has developed software to mimic bioenergy crop growth, which assimilates data gathered by the robots and uses this weather forecasts to predict final yields and crop futures. This assists the farmer in knowing the likely size of harvest so that harvesting, transportation, and storage needs can be addressed in advance," said Stephen Long, "Equally more accurate estimates of futures can achieve more stable pricing."
Contact TERRA-MEPP Communications Coordinator Claire Benjamin to learn more about updates to the robot or to organize a demonstration. 
---
TERRA-MEPP (Mobile Energy-Crop Phenotyping Platform) is a research project that is developing a low-cost phenotyping robot to identify top-performing crops. TERRA-MEPP is led by the University of Illinois in partnership with Cornell University and Signetron Inc. and is supported by the Advanced Research Projects Agency-Energy (ARPA-E).