Something new under the Arizona sun: a robotic revolution in plant breeding
---
On a bright, hot day this June in Arizona, a vehicle the size of a Golden Retriever, designed and constructed at the University of Illinois, rolls on miniature tank treads between two rows of young plants. A group of researchers, policy-makers, and farmers have gathered to see the early fruits of an unusual hybridization in modern agriculture: a crop of semi-autonomous robots designed to monitor the growth of sorghum and other crops, born of a cross between plant biology and engineering.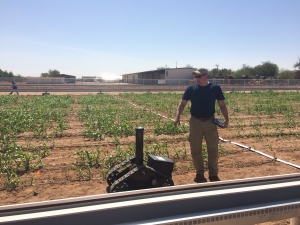 Researchers from the Carl R. Woese Institute for Genomic Biology (IGB) at Illinois and from the University of Arizona, Blue River Technology, Purdue University, and partner institutions demonstrated prototypes of several crop-monitoring systems during a day-long event at Arizona's Maricopa Agricultural Center. The development of these systems is supported by the Transportation Energy Resources from Renewable Agriculture (TERRA) program within the U.S. Department of Energy's Advanced Research Projects Agency-Energy (ARPA-E).
Farming, whether it takes place in a backyard plot or an agricultural field, is a never-ending cycle of experimentation. What crops should be grown in the first place? How should they be managed to help them resist pests, diseases, and drought? A key step in answering these questions is phenotyping, obtaining accurate measurements of how well plants are actually growing and producing grain or biomass.
The TERRA program aims to greatly accelerate agricultural research by funding the creation of systems, showcased at this inaugural field day event, which will streamline the labor-intensive phenotyping step of farming and crop development. Automating tasks such as assessing the growth, health and biomass of individual plants and integrating these data with genetic and environmental information requires the concerted efforts of experts from multiple fields.
"For the first time," said ARPA-E Program Director Joe Cornelius in an introduction to the field day's demonstrations, "we are seeing the intersection of robotics, engineering, computer science, and biology" in efforts to revolutionize phenotyping technologies for crop development and management. "This [technological challenge] is too important not to get it right."
Collaboration across disciplines has already been a key aspect of development for the TERRA-Mobile Energy-Crop Phenotyping Platform (MEPP), the compact ground robot. TERRA-MEPP is the work of a team of researchers from IGB, Cornell University, and Signetron Incorporated directed by Gutgsell Endowed University Professor of Crop Sciences and Plant Biology Steve Long. Associate Professor of Plant Biology Carl Bernacchi is a co-director.
The TERRA-MEPP robot is based on autonomous rovers that search for accident victims in collapsed buildings and other confined, hazardous spaces. Team members are modifying this robust base to include miniature sensors—including hyperspectral, HD and thermal cameras, weather monitors, and LiDAR scanners—that will quantify key aspects of plants and the growing environment. These data from the sensors will be used to create a 3D reconstruction of each plant in order to estimate biomass yield. An analytical pipeline will associate these data with genome sequence information to identify high-yielding combinations of bioenergy plant lines, environmental conditions, and management practices.
"Some of the advantages of the platform that we have are its low-cost and its high mobility," said Research Assistant Professor of Civil and Environmental Engineering Joshua Peschel, who is leading development of the robot and demonstrated its features at the field day. "The other thing to remember is that [the robot is] where the real action is happening, so if we can capture soil moisture and temperature in this general area and look up at how much light is coming through, then that's a game-changer."
Long, Bernacchi, Peschel, and several other PIs on the TERRA-MEPP team at Illinois, Assistant Professor of Crop Sciences Patrick Brown, Professor of Agricultural and Biological Engineering Vijay Singh, and Robert Emerson Professor of Plant Biology and Crop Sciences Donald Ort, are members of the IGB. David LeBauer, a fellow at Illinois' National Center for Supercomputing Applications, is managing aspects of Big Data analysis for TERRA-MEPP and for another TERRA project, the Phenotyping Reference Platform, led by the Donald Danforth Plant Science Center in St. Louis.
In addition to the TERRA-MEPP robot, the field day showcased several other analytical systems, including a crop-sensing drone designed by Blue River Technologies and Arizona's Field Scanalyzer, a sensing system mounted on a gantry that spans the width of a field and gathers data by gliding along a custom-built track.
Among those who attended the event, an inaugural field day for the TERRA program, some of the most enthusiastic were representatives of growers' associations for crops including sorghum, cotton, corn, and wheat. TERRA projects are focusing on sorghum, a versatile, drought-tolerant plant and a promising biofuel source, but many of the technologies and scientific findings that emerge from it will be transferrable to other crops. Growers spoke directly with researchers about how deliverables such as improved crop lines and cheap, automated monitoring systems like the TERRA-MEPP robot could positively and broadly impact agriculture.
ARPA-E Director Ellen Williams emphasized the importance of this type of technology transfer in her remarks at the event. "This technology has to work," she said, "but also be feasible." Based on this first look at growth in the field, this crop of robots is off to a promising start.
---
By: Claudia Lutz | Carl R. Woese Institute for Genomic Biology | University of Illinois