August 30, 2017
U of I scientists envision robot crop scouts doing farm dirty work
---
University of Illinois engineers developed technology to efficiently handle the uncomfortable, tedious work of crop scouting while enhancing critical information.
Meet TERRA-MEPP, a small, boxy robot that excited visitors during U of I Agronomy Day.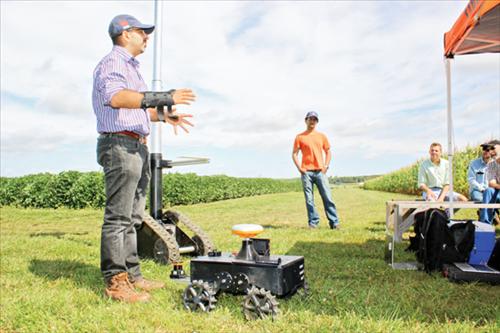 "We think this robot will make drive-by farming history," said Girish Chowdhary, one of the robot developers and U of I assistant professor in agricultural and biological engineering. "This robot will be able to go inside your crop (field) and tell you (information) while you sit with coffee and analyze if you need to call someone."
Chowdhary and his fellow developer, Chinmay Soman, co-founder of EarthSense, an agrobiology engineering company, shared their vision of the robot's benefits and commercialization philosophy along with nuts-and-bolts details.
Using a GPS system, the robot rolls between crop rows, counting plant populations and reporting on stalk sizes, uniformity and vigor. The two scientists are developing algorithms to allow the robot to know growth rates.
They estimated the 14-pound robot initially would sell for $5,000 with software and would have the ability to do standard population counts. The unit would include visual sensors, an app and a tablet for operation. The current version is a prototype, and a future, narrower version may be developed to fit between narrow row widths, according to Chowdhary.
"We are starting to do (crop) disease detection as well," added Soman, noting the robot's ability to be inside the plant canopy.
"Our philosophy is growers first," Chowdhary responded when asked about marketing.
"Individual farmers who are interested, we would love to come to talk to you and run it on your fields," added Soman.
"Our long-term dream is for several robots that would stay out in the fields. There would be a charging station. And they would report data to you," Chowdhary concluded.
---
By: Kay Shipman | FarmWeek
Go to original story