UI professor develops farming robot to alleviate labor costs, increase efficiency
---
Researchers at the University developed robots to help farmers of the Midwest tend to their fields. Some models, priced at $5,000, are already being used by early adopters.
"They use very little input — input in the sense of chemicals or fertilizers or fuel — but produce good food, good healthy food, in abundance, without using a lot of people's time," said Girish Chowdhary, University professor.
The robots are designed to work underneath the crop canopy, with the ability to do research as well as spot trouble with the crops, he said. They are designed to be more natural and environmentally friendly than the current methods of farming.
The main purpose of the robots is to provide weed control for farmers, primarily of corn and soybeans, at a reasonable cost, according to the press release. They can also locate beneficial genes in the DNA of crops. Robots already help farmers with production and harvesting, but Chowdhary and the other researchers want to create robots that can work in any climate.
The goal is to create a product to alleviate many of the labor costs that are available for under $10,000, according to the press release.
Chowdhary said these goals are becoming more and more possible because advances being made are really helping push technology forward. He has also said in many states, robots are already starting to alleviate the labor shortage in agriculture.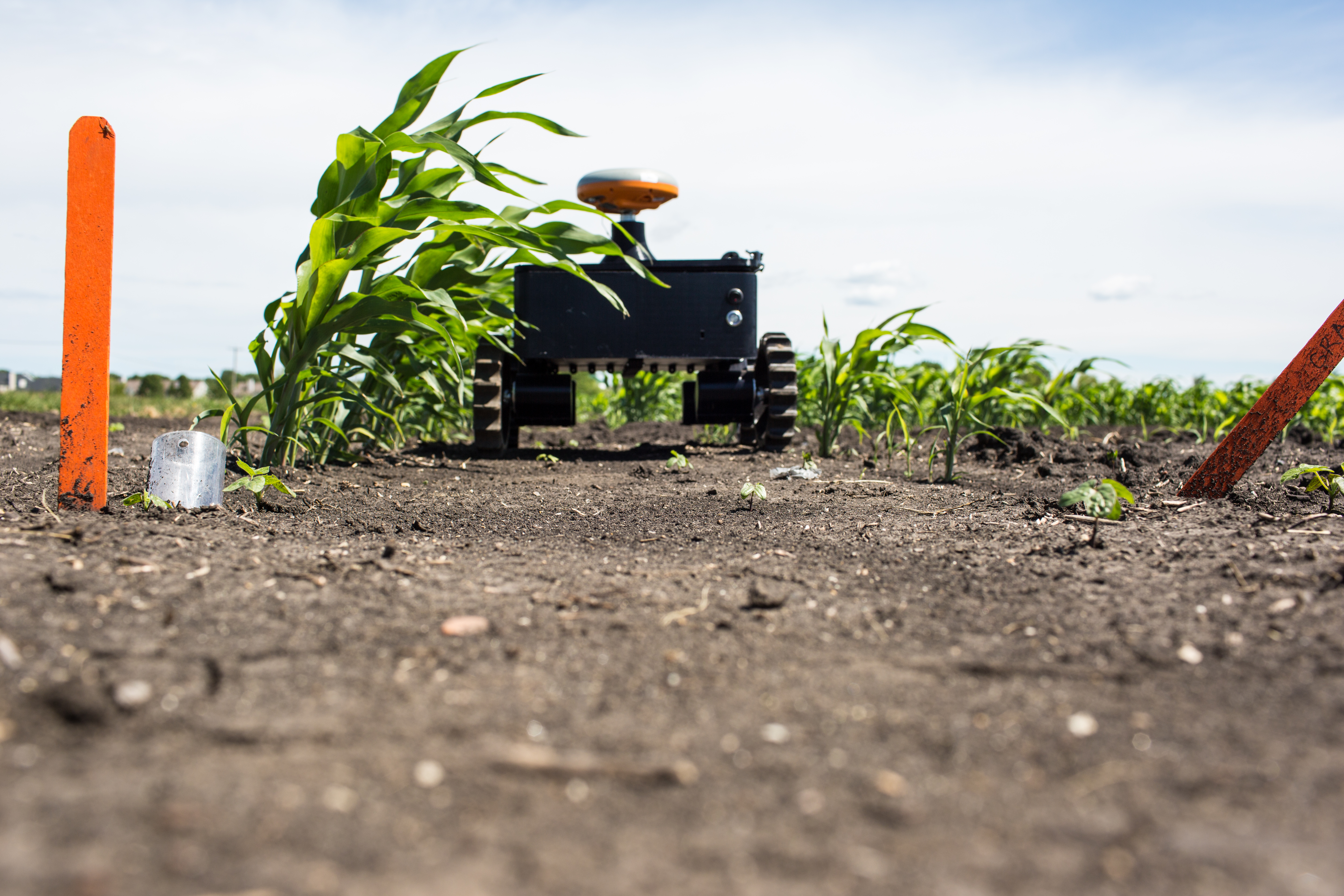 The artificial intelligence can help the robots to adjust to variations in farms, including different terrain and crop sizes. According to Chowdhary, there is structure in farmland, but things keep changing.
"So we need a new type of artificial intelligence, what we call autonomous decision making in field environments, and it has to be verifiable, it has to have guarantees and it has to be robust," he said.
Manufacturing involving 3-D printing is a key component as well, cutting the times of production down significantly. Traditional manufacturing takes far longer than lightweight manufacturing, Chowdhary said.
The objective is not to replace humans in the farming industry, rather to reduce labor costs and help the farms to be more efficient. These robots are designed to make production of food easier and as such reduce inequality in nutrition and food around the world.
If this technology succeeds, Chowdhary said he plans to apply it to other jobs, including mining, exploration of remote areas and disaster response.
"All of these fields need robots that are intelligent and can feel, with a changing dynamic environment," he said.
Chowdhary said his ultimate dream for his robots is to be able to grow food on Mars so people can live there.
These robots have been given the best systems paper award at Robotics: Science and Systems, a Pittsburgh conference held last week. The work was also supported by the Advanced Research Project Agency-Energy, according to ACES News.
---
By:  Veronica Mierek | Daily Illini
Go to original story
---
RELATED RIPE OBJECTIVES
Robot